Liquid-cooled 50cc engine is very rare equipment indeed. Designed to keep its cool and deliver high output under any circumstances this 50cc mill is ready to roll.
Options for both on-road and off-road versions
Long travel front suspension makes it suitable for even the toughest road conditions; centrally positioned rear suspension makes sure it's comfortable and friendly enough for use on city streets.
Dual "petal style" disk brakes ensure strong stopping power making sure everything is in your control.
Dirt bike heritage is reflected by both the tank covers in the front, and the beautiful tail design out back
Center positioned exhaust, integrated with the rear tail light, adds a sporty flair.
Extended mirrors are engineered to provide an excellent rear view, keeping you up to date to what's going on behind, as well as, in front of you.
Sportive dashboard design.
With exclusive triple – phase electrostatic painting technologies and UV Curing Processing, the surface paint is more evenly distributed upto 50 um in thickness, and remains highly shiny and aging resistant for 5 – 7 years.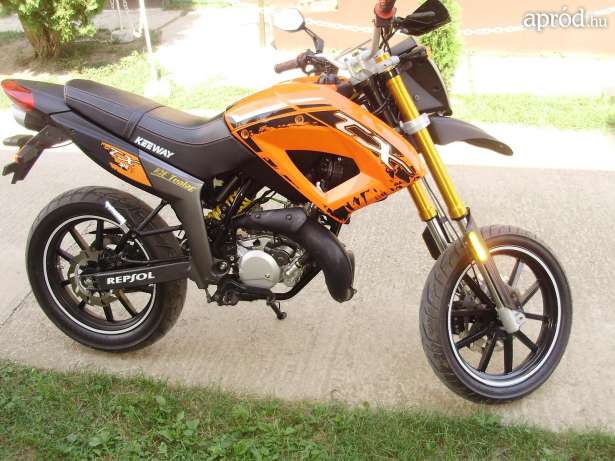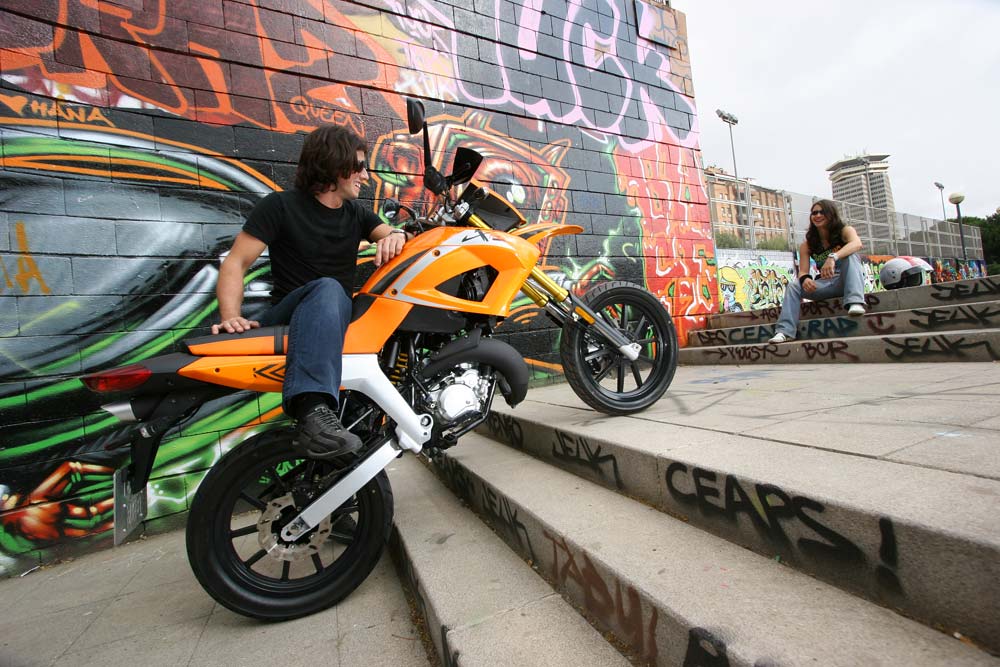 TX50 motorcycle
Engineered for any terrain
Starting with long travel suspension, and dual disk brakes up front, to the exquisite finish of the rear light and under seat exhaust design, every single detail of TX 50 is telling you this model is born to accept any challenge! The dirt bike design sets the TX 50 apart from the crowd in the 50cc range. It features quality components, such as custom "Petal style" front and rear brake rotors, and a liquid cooled engine. Beautiful finish along with that fun and distinctive 2-stroke exhaust note make this bike ideal for those who want to reach their potential!
TX50 features:
TX50 specifications:
Enduro Supermoto
Length (mm) 2060 2035
Width (mm) 890 890
Height (mm) 1230 1230
Wheelbase (mm) 1370 1390
Ground Clearance (mm) 320 320
Net Weight (kg) 94 98
Engine type KW1E40MB-2 KW1E40MB-2
Engine Mode
1-cylinder, 2-stroke, water-cooled 1-cylinder, 2-stroke, water-cooled
Bore x Stroke (mm) 40.25x39 40.25x39
Displacement (ccm) 49.6 49.6
Compression Ratio 7.0:1 7.0:1
Max. Power 1.39 kw / 5500 rpm 1.39 kw / 5500 rpm
Net Max. torque 2.6Nm/ 3000 rpm 2.6Nm/ 3000 rpm
Braking Method
Front wheel disc, Rear wheel disc brake Front wheel disc, Rear wheel disc brake
Fr. Wheel Size 3.00-21 100/80-17
Rr. Wheel Size 4.10-18 130/80-17
Max. Speed (km/h) 45 45
Fuel Tank Volume (L) 10 10
Ignition C.D.I. C.D.I.
Max.Loadage (kg) 150 150
Starting Method Electric start,kick start Electric start,kick start
Clutch Type
Wet shoe, multiplate, 6 speed trans. Wet shoe, multiplate, 6 speed trans.
Battery 12V